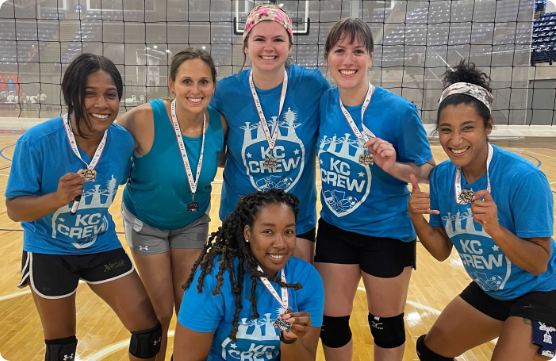 KC Crew is happy to be Kansas City's biggest and best adult sports leagues. We offer full team, company, and free agent registrations for all 5 seasons (Winter, Spring, Summer, Fall, and Holiday). We offer 6v6 CoEd, Women's and Mens leagues for all skill levels (recreational, intermediate or competitive) on different nights so there is always something for everyone!

6 REGULAR SEASON GAMES, VOLLEYBALLS PROVIDED
LEAGUE MONITOR TO ANSWER QUESTIONS AND SUBMIT SCORES
END OF SEASON TOURNAMENT FOR THOSE THAT QUALIFY
SPONSOR BAR SPECIALS AND PRIZES (SEASON SPECIFIC)
Don't have enough players to form a team? New in town or just can't seem to find enough people to play? Free Agents can join a team, pay and when the team fills, you're in! If it doesn't fill we will ask you to move to another team that needs you or we will refund your money. There's 3 ways to be a free agent
Sign up to Be a Free Agent and wait for a team captain to draft you. You are not guaranteed to be a free agent
Join a team. You can go look for public teams, join, pay and you are on the team.
Create your own Public team which means any free agent can join or you can go draft free agents to make your own team.
Are you looking for subs, tournaments or teams to join? Our Facebook groups have hundreds of locals looking to play and meet you plus it's a great way to find out about tournaments around the metro.
Fun, Friends &
INDOOR VOLLEYBALL ​
We offer 6v6 CoEd, Womens and Mens leagues for all skill levels on different nights so there is always something for everyone.
Sign up for leagues by choosing the option that works best for you.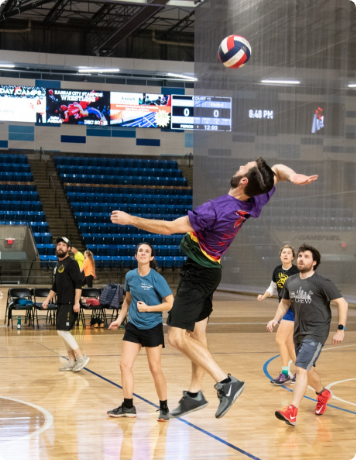 Recreational players play for fun and about 25-50% have high school experience.
Intermediate players play for fun, to win and about 50-75% have high school varsity experience.
Throughout the COVID-19 quarantine, we went live every week for 6 weeks with tips, mini-skills, and challenges brought to you by Coach Angela Principe. Check out all past episodes below. Looking for more individual training? Check back soon to see our new course and training!
Other Leagues
You May Like