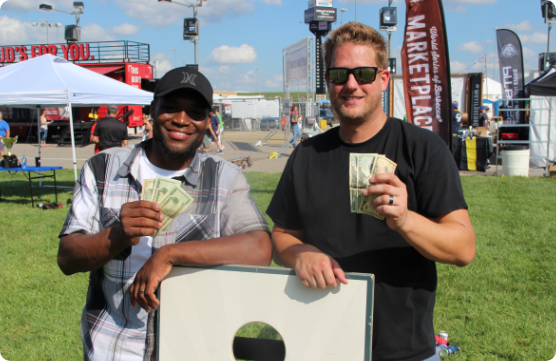 KC Crew is happy to be Kansas City's biggest and best adult sports leagues. Whether you're looking to stay active, have fun, meet new friends, or bond with the friends you already have, KC Crew has something for everyone! We offer a variety of sports and activities year-round at different skill levels and locations around the metro.

6 REGULAR SEASON GAMES, BAGS AND BOARDS PROVIDED
LEAGUE MONITOR TO ANSWER QUESTION AND ENTER SCORES
END OF SEASON TOURNAMENT FOR THOSE THAT QUALIFY
SPONSOR BAR SPECIALS AND PRIZES (SEASON SPECIFIC)
Don't have enough players to form a team? New in town or just can't seem to find enough people to play? Free Agents can join a team, pay and when the team fills, you're in! If it doesn't fill we will ask you to move to another team that needs you or we will refund your money. There's 3 ways to be a free agent
Sign up to Be a Free Agent and wait for a team captain to draft you. You are not guaranteed to be a free agent
Join a team. You can go look for public teams, join, pay and you are on the team.
Create your own Public team which means any free agent can join or you can go draft free agents to make your own team.
Are you looking for subs, tournaments or teams to join? Our Facebook groups have hundreds of locals looking to play and meet you plus it's a great way to find out about tournaments around the metro.
We offer Mixed leagues for recreational or competitive players on different nights so there is always something for everyone.
Sign up for leagues by choosing the option that works best for you.

Social Recreational players play for fun!
Competitive players play to win and all of our competitive leagues have a cash payout for 1st and 2nd.
TIPS AND TRICKS FOR WINNING CONSISTENTLY
Now that you know how the game of cornhole is played, you might just be interested in learning some of the tips and tricks of the game that can help you win consistently, thus giving you bragging rights among your friends. Here we have assembled just a select few of those tips:
If you're just playing with the bags that came with the boards, then you might want to reconsider that. You see, the bags that come as a set with the boards are just your basic models. They're not designed for serious players and really just meet the bare minimum for the occasional player. If you decide to upgrade your cornhole bags with some of higher quality, then you'll likely see an improvement in your game performance at the same time.
Other Leagues
You May Like