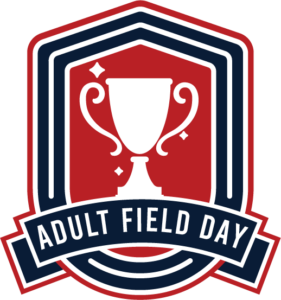 SET UP YOUR OWN
FIELD DAY
Are you interested in hosting a field day as a company event or just for fun? Look no further! KC Crew offers a fun and easy solution for all of your field day needs!
You tell us a date, time and location and we will manage all organization, scheduling, and management of the tournament – all that you have to do is promote it to the people you want to be there!
Rockhurst University -
Saturday, May 21st
We are bringing the Field Day games back to college and we don't have to hide the booze this time!
Think back to your favorite day of grade school… it was Field Day, wasn't it? Yep, we knew it! Don't miss the one and only Field Day for Adults! 



Adult Field Day is a throwback to grade school, but for adults! We've got all of your favorite games from relays to water games, and even some new ones too! Teams will earn points in each event to add up your total for the day.
Does your team have what it takes to be the Champs of the Field? Grab your co-ed team of 7-10 players (at least 3 must be female) and sign up to find out!
Sign up for updates about
this year's event
TEAM INFORMATION AND HOW IT WORKS
Each co-ed team consists of 7-10 players – 3 must be female.

Teams will compete head-to-head with other teams to determine the Champs of the Field.

Events will require a different number of participants and all team members must participate in at least 2 events throughout the day.

The team with the most points at the end of the day wins!
Check-In and warmups begin at 11:00am 

All players must check in!

Come early for warmup stretches and music!

Games begin at 12:00pm

There will be a 1 hour lunch break midway through the games so you can relax and refuel!

Teams will compete in 6 different events throughout the day!
FREQUENTLY ASKED
QUESTION
Early Field Day Team – $300 – April 1st – April 17th
Field Day Team – $350 – April 18th – May 8th
Last-Minute Field Day Team – $400 – May 9th – May 18th
Spectator Tickets – $20

– Want to cheer on your favorite team? This ticket is for you!

NOTE: Registration ends May 18th at 12:00pm
Champs of the Field – Awarded to the team with the most points after all events. Winners will receive gold medals!
Most Spirited – What's Field Day without a little team spirit? This award will go to the team with the most spirit (Costumes encouraged!!)
CHECK-IN, GAME AND Day Of INFORMATION
Check-in for Adult Field Day will begin at 11:00am at Lower Bourke Field at Rockhurst University! All teams must be checked in by 11:45am.
Please make sure ALL players sign the waiver BEFORE the arriving for a smooth check-in process. 
After several requests from last year's event, we have added an hour break between games. The break will take place after round 3 of games, around 2pm. At that time, players can hang out at their team HQ or can make their way to the Rockhurst cafeteria for food!
Teams are encouraged to show off their team spirit with team uniforms or costumes. (Reminder, we will award the most spirited team!)
Teams can bring pop-up tents and lawn chairs if you choose! Please bring stakes to ensure your tent stays put.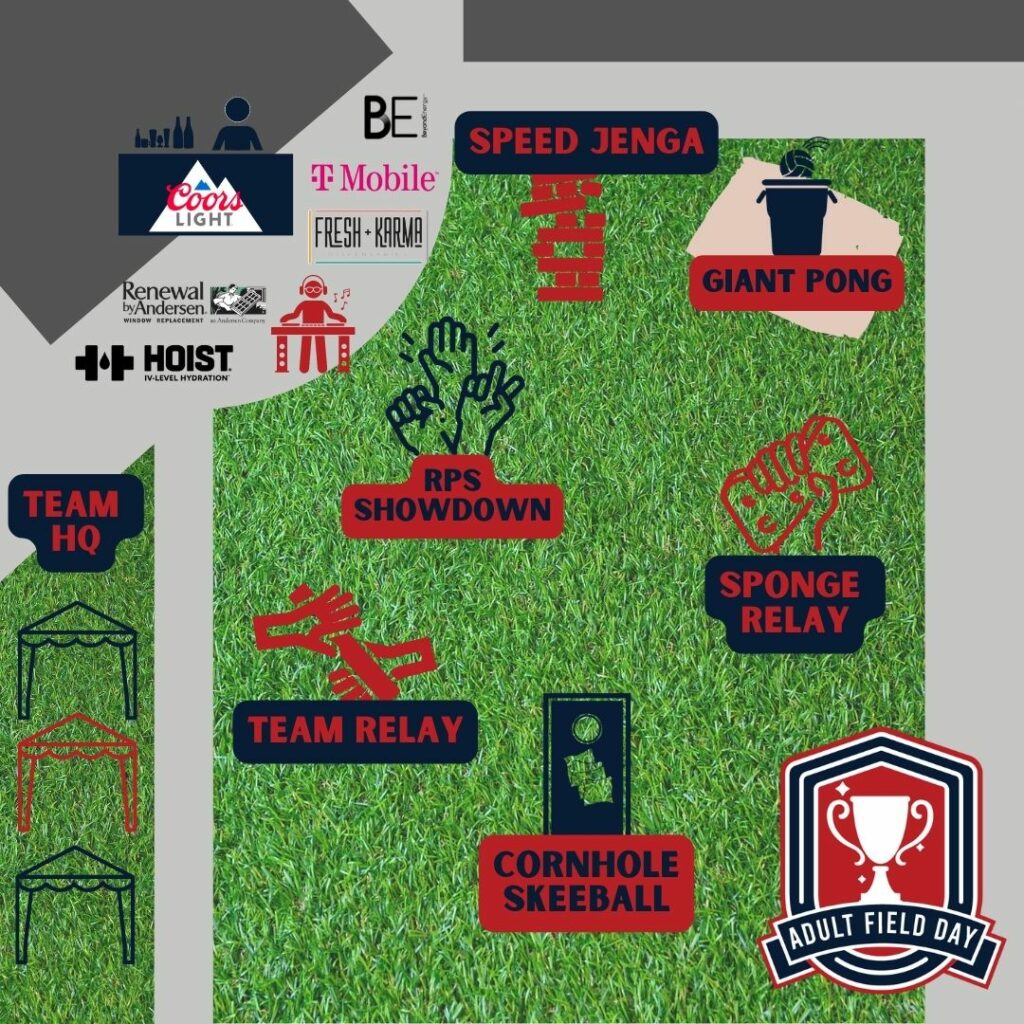 11:00 am – Check-in for all attendees will begin at Lower Bourke Field at Rockhurst University.

Address: 1338 E 53rd St, Kansas City, MO 64110
ALL ATTENDEES MUST BE 21 OR OLDER.
Upon arrival, ALL attendees will need to check-in.
All attendees will need to sign a waiver if they have not done so already. Save time and sign the waiver here.
All attendees will receive a wristband upon check-in that MUST be worn throughout the entire event.
The bar will be open and there will be serving Coors Light and more!

11:45 am – ALL attendees must be checked in by this time!
12:00 pm – Field Day Games Begin!

Games include:

Speed Jenga
Giant Pong
Cornhole Skeeball
Sponge Relay
Team Relay
Rock Paper Scissors Showdown

All game rules can be found here.
Check out the Adult Field Day Map below!

1:30 pm – Halftime Break! All Field Day participants are encouraged to take this time to eat and refuel! Food will be available in Massman Hall on the Rockhurst University campus.
2:30 pm – Games Resume
5:00 pm – Games End
5:30 pm – Awards!
CHECK OUT PICTURES FROM Last Year's Event